Posted:
January 2, 2015
3:11 am
---
News
---
General member meeting
Is MakeICT moving? Are we buying new equipment? How will we make all of these decisions? Find these answers and more at our general member meeting on January 12th at 7:30pm.
Newsletter
People have been asking us for a newsletter for a long time, but we've been so busy with everything else that we haven't been able to create one. Some people read the blog entries on our webpage, some people are subscribed to our forum, and some people follow us on social media… but some of you still want MakeICT news delivered to your inbox. Hey, we totally understand, and I'm here to deliver!
To manage your mailing options, visit: http://makeict.wildapricot.org/newsletter
---
Past Events
---
Robot Sumo
Our Robot Sumo event was the brainchild of Ivan Quiroz, and we fell in love with it immediately. We had 18 people in 9 different teams come to build bots and 7 of those teams competed in the tournament. I didn't count the number of spectators we had, but it was a full house!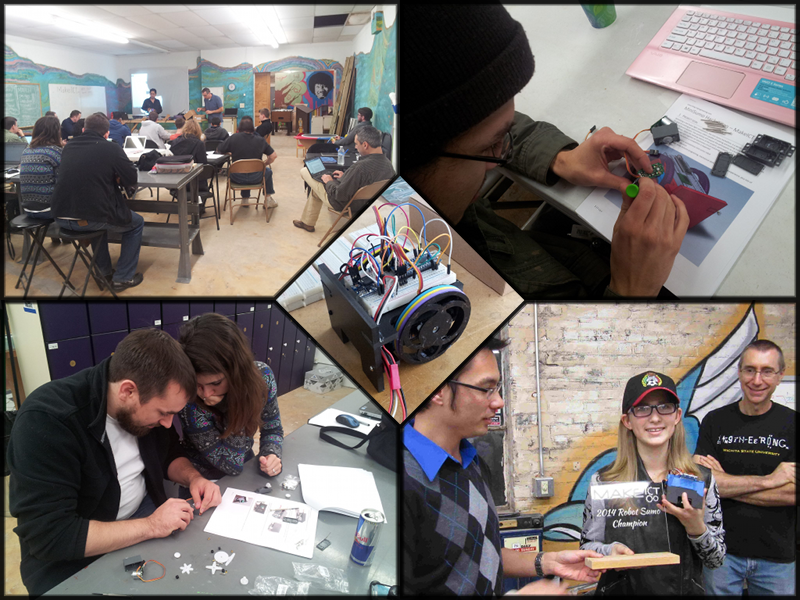 Everybody involved had a great time. Ivan and Tom McGuire put a lot of effort in developing a custom robot kit, testing and tweaking prototypes, and developing instructional material. Gina Keezer, Paul Rattana, and Troy Griggs helped out with marketing and media, as well as being a sounding board. I contributed source code to help speed development. Some familiar faces like John Harrison and Christian Kindel came to mentor and assist. All of us contributed as volunteers, and it wouldn't have worked without everyone's help. Thank you, volunteers!
This was our first Robot Sumo competition, and we're looking forward to doing it again. We've collected a lot of feedback from participants so that we can make the next one even better! If you weren't able to participate this time, we hope you'll join us for the next one. And if you did compete, we hope to see you (and your bot) make a comeback!
2014 Robot Sumo Winners
Champion: Dragon Slayer – Katlyn Williams
Runner up: Maelstrom – Rick Boyd & Christian Kindel
Best in show: Bushido – Anna Lenhart Murray
For those of you who missed out on the action, you can watch videos of each of the battles on our Youtube channel!

Intro to 3D Printing
It's no secret that we love 3D printing at MakeICT. There probably aren't very many people nearby who have nearly as much experience with 3D printers as James Lancaster, who has hosted several workshops for us in the past. We're pretty lucky to have him around!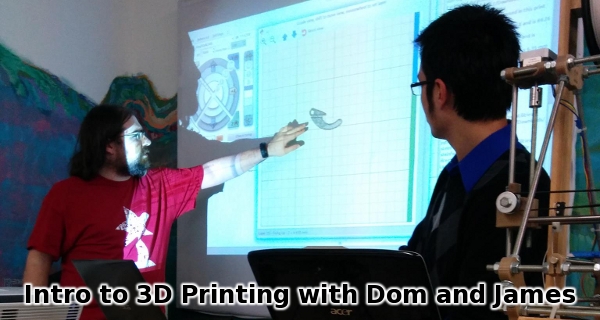 James and I took feedback and suggestions from previous workshops and created a brand new, multi-workshop teaching plan. Then we tag-teamed the Intro workshop for 20 eager makers. Now we're looking forward to hosting Intermediate and Advanced workshops! Stay tuned for dates!
---
Upcoming Events
---
We are partnering with Chibitronics, creators of peel-and-stick electronics for crafting circuits, for this Instructables build night.
We will use these sticky circuit elements with copper tape to build beautiful designs that light up and can be enhanced with special effects.
We will teach you what you need for this workshop. We will supply everything you need for this workshop.
The MakeICT board of directors will propose location/leasing options and equipment purchases to the membership for discussion, revision, and approval via vote.
Nerd Beers is an informal social gathering and open hack night. Bring some beer (if you'd like), bring your laptop (if you'd like) and come hang out and nerd out with fellow Wichita developers.
Feel free to bring a project to work on, or just show up and see what everyone else is up to. This is a completely open social gathering, the only rule is to get out of the house and show up.
Let's all get together and build something! Everyone bring your own project idea, and spend the day seeing what you can accomplish.
There are no requirements for what you work on, just something you have some interest in. This can be a great opportunity to try and learn something new, or try out that new language you've wanted to play with.
Nerd Beers is just a few days beforehand, so feel free to come out and discuss with the group to help you get an idea.
Some food and drinks will be provided.
By combining computer vision (OpenCV) and coding (Jython (Java + Python)), Sikuli can be used to automate any graphical user interface with programmable intelligence. The vision module allows users programmatically identify visual elements, query the screen, and perform logical operations based on the results. For example, one could write a script to find all checkboxes on the screen and toggle their state if the first letter after the checkbox is a 'T'. This can be a powerful tool for GUI testing or automating UI's when an API is not available.
Your presenter will be Dominic Canare.
February 7 – DIY Valentine's Day Cards with Valerie Lillich
We're still working out the details for this one, but it will be just in time for you to make something special for your special someone!
---
Open Hack Nights
Don't forget, every other Monday is Open Hack Night! We open our doors to the public and invite people to bring a project, bring a friend, or just bring themselves. There's always something interesting going on!