Posted:
January 4, 2016
11:24 pm
---
Volunteer opportunity
---
We're looking for a newsletter composer! These monthly updates reach a wide audience of our members, supporters, and other subscribers. If you're looking for a way to help out and this interests you, let us know!
---
What we've been up to
---
Network upgrade
The makerspace network has been upgraded! We replaced a couple of consumer-grade wifi routers with a commercial-grade MikroTik router and 3 access points. This has dramatically improved the reliability and speed. Our volunteers ran nearly 6,000 feet of cat5e cable and installed physical ethernet drops around the makerspace.
HUGE thanks to all of the volunteers and donors who helped make this possible!
We want from this router: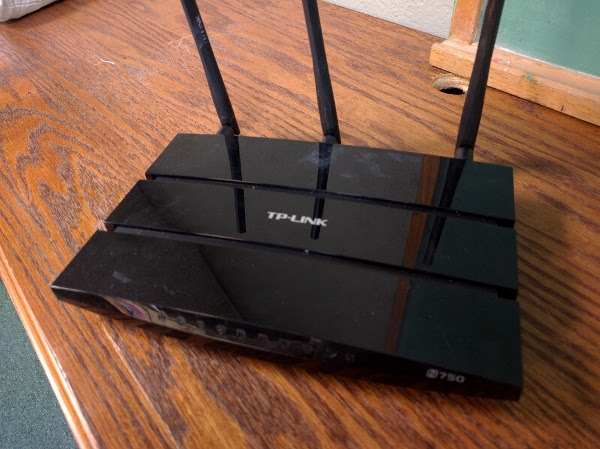 To this router (and 3 access points):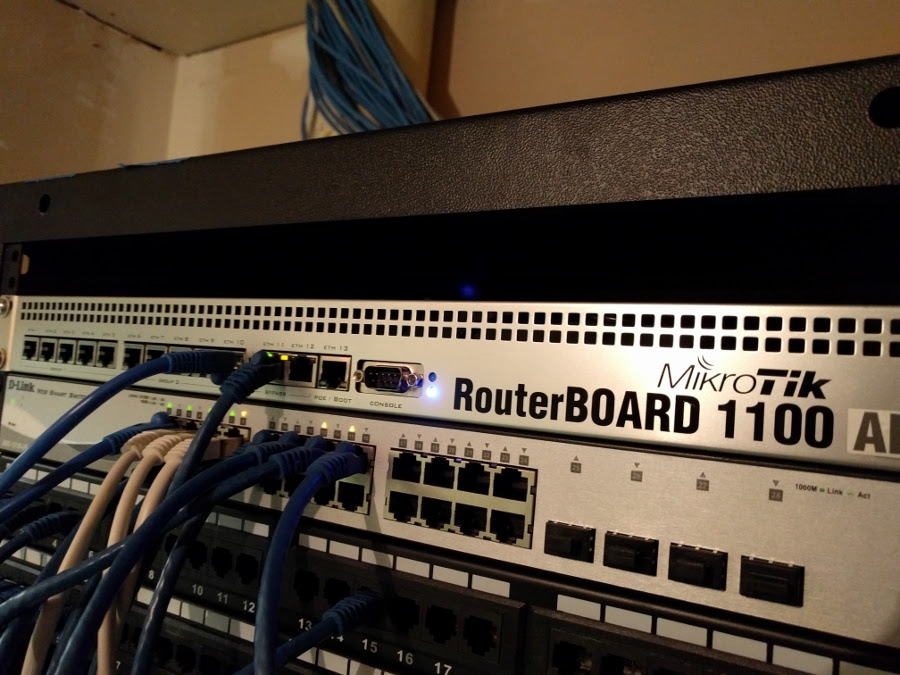 Plus, check out this patch panel I wired up and didn't completely ruin!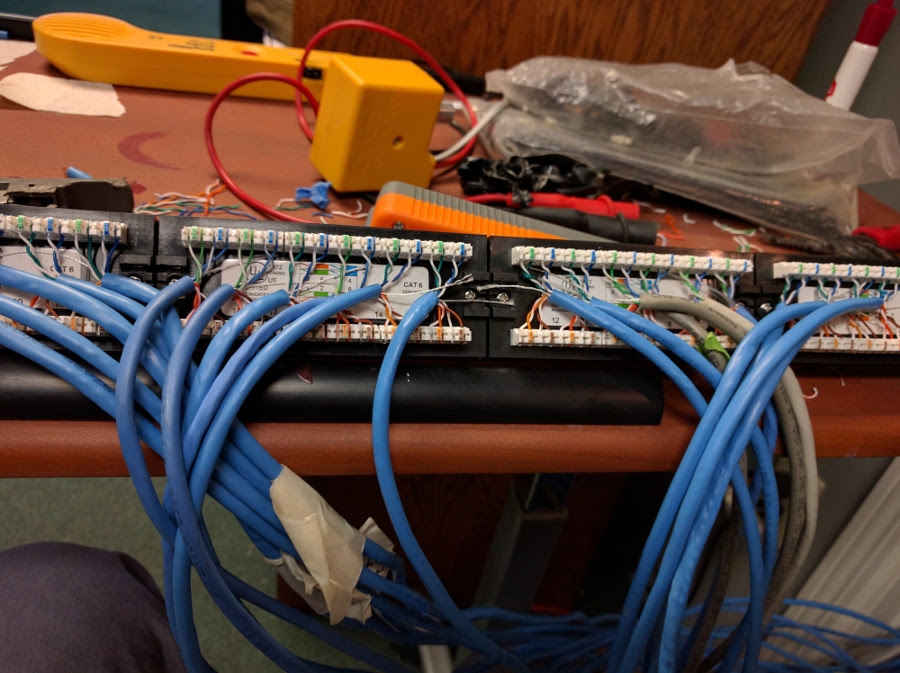 We have few other site-wide projects like this that I'm pretty excited about – stay tuned for future updates!
Step stool workshop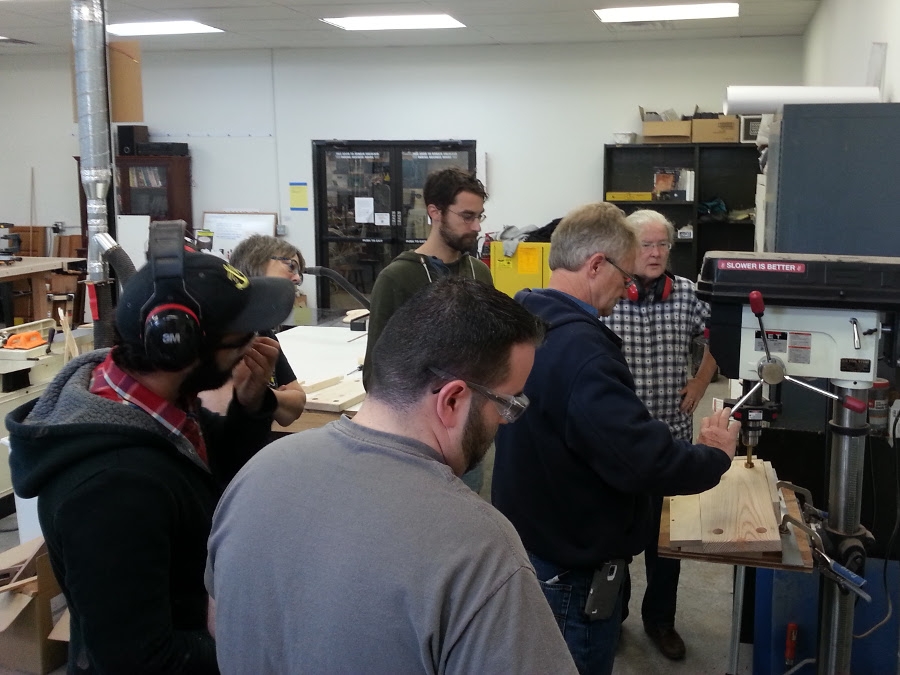 Jerry's DIY step stool workshops are great way to start learning woodworking and some of the equipment available at the MakeICT makerspace.
Check out this picture Jeremiah made during one of the workshops, then etched on the laser cutter, and finally stained for finish.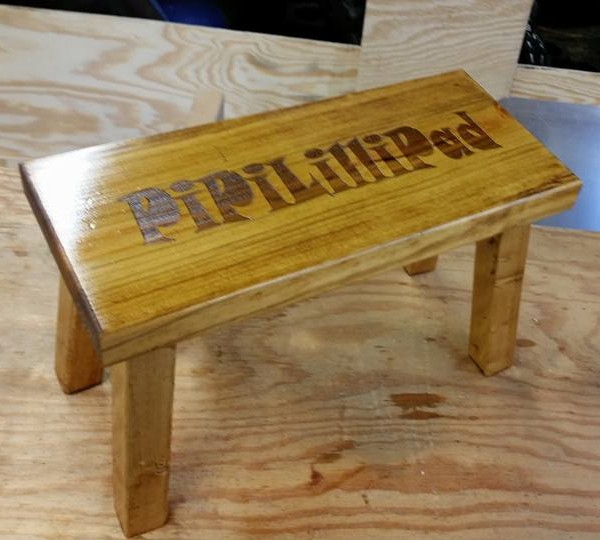 Jerry's doing another DIY step stool workshop this month – see the events listed below to sign up!
Coffee roasting
A relatively small but committed group came out for Dean's coffee roasting workshop. He covered the whole process, from green bean to coffee pot and more. According to lingering aroma, this workshop went pretty well!
Woodshop safety workshop
Thanks to Mike H's woodshop safety workshops, the MakeICT woodshop has been buzzing with activity. We'll keep these safety workshops going every month, so if you haven't had yours yet, just keep an eye on the calendar!
Laser cutter certification workshops
The laser cutter has been very popular too! We've done a bunch of laser cutter certification workshops now, and people have been making some cool stuff. We'll also be keeping these going every month.
3D Printing
In this workshop, we learned some modeling basics as well as how to change filament in the Ultimaker 2, how to level the bed, and how to create a 3D print from the model. The Ultimaker 2 is just one of the three 3D printers we have at MakeICT. They all use slightly different software, but the workflow is the same, so once you've learned how to use one it's easy to learn the others.
---
What's coming up
---
Learn the basics to safely operate the major woodshop tools in this Safety class including understanding the limitations of each tool, the forces created when using the tool and how to maintain safe control for improved performance.
Tools covered: SawStop table saw, drill press, band saw, wood lathe, router table, jointer, planer, miter saw, oscillating spindle and belt / disk sanders and scroll saw.
Prerequisites: Please read the wood shop tool access policy and safety requirements on the wiki page prior to coming to class.
Safety Personal Protective Equipment (PPE):
Mandatory: Closed-toed shoes, eye protection, short sleeves
Advisable: Hearing protection
Once you take and successfully pass this class quiz, you can use this wood shop equipment for your projects whenever you work at MakeICT as a member! Additional woodworking classes will be offered, so watch the calendar for notification.
Join us for a pre-work meetup to have some coffee, get your day started, and hang out with some fellow developers. Show up whenever, leave whenever. Join us at The Labor Party to get your day started right!
Wichita's first free game development and demo day! Hosted by devICT and The Labor Party and FREE OF CHARGE!
MakeICT member Matthew Warren will explain the what, why, and how of modding the Wii video game console.  Participants are invited to bring their own Wii's to get assitance with setting them up to enjoy homebrew apps.  The workshop outline is as follows:
Brief history of Nintendo
Wii game console specifications
Benefits of modding on the Wii
Installing homebrew channel (gateway to Wii modding)
Using homebrew channel to launch apps
Homebrew browser (download and install apps)
The instructor, Matthew Warren, is a regular at the makerspace and occasionally brings a Wii to Maker Monday's to share.  His interests are gaming technology and gaming trends, artistic geometry and symmetry, visual mathematics, 2D and 3D graphic arts, technology in all aspects of life, creating-making-modifying things, photography, sculpture, music:listening-playing-creating.
Bring a project, bring a friend, or just bring yourself! Come check out our makerspace, meet cool people, find help with a project, see who you can help, or just come hang out!
Maker Mondays are free and open to the public!
Are you a new member (or are you considering becoming one)? Join us during the Maker Monday on January 11th for new member orientation!
Our monthly hangout is an informal social gathering and open hack night. Bring a project, or don't, and come hang out with fellow Wichita developers. This is open to anyone interested, the only rule is to get out of the house and show up!
Inkscape is a free, open-source application for creating vector graphics and designs. It has many uses, and designs created in Inkscape can be used for foam-cutting, laser cutting, 3D printing, and more!
In this workshop, Dominic will be sharing all of his tips, tricks, and techniques for creating designs specifically for the laser cutter at MakeICT.
If there is something specific you'd like to see, let Dominic know and he will try to work it into the lesson.
Laptops are available to borrow, or you can bring your own (mouse recommended). If you do bring your own, please be sure to have Inkscape installed before the workshop.
This certification course is available to active MakeICT members who want to learn how to use the laser cutter. Completion of this workshop grants the necessary certification to use the laser cutter.
Do you want to learn to code? Do you already code and want to sharpen your skills? Maybe learn a new language, framework or tool? Level Up is the event for you. Bring your laptop and start learning. We provide the space and the mentors to provide guidance and answer questions.
The object of this workshop is to build a small pine wooden step stool, kids size, to use to get a drink or to stand on to brush teeth. The steps are listed below. Painting/Staining would be done off site. This is an entry level workshop that will demonstrate use of several tools in the woodshop. A follow on workshop will be hosted in the future to make a rustic step stool.
Tools used: table saw, planer, drill press, miter saw, lathe, drill motor with tenon cutter, , sanders.
MakeICT member Jerry Carpenter is our workshop host who is a woodworker extraordinaire specializing in hand made rustic items. He is also a member of the Sunflower Woodworker Guild.
Learn from one of the best wood turners in Wichita, Royce Wallace, in the MakeICT woodshop!
Topics covered: work piece mounting, spindle turning, bowl turning, parting tools, spindle gouge, bowl gouge, scrapers, roughing gouge, etc.
PREREQUISITE: woodshop safety class is required to have been completed prior to this class!