September 12, 2017
4:46 pm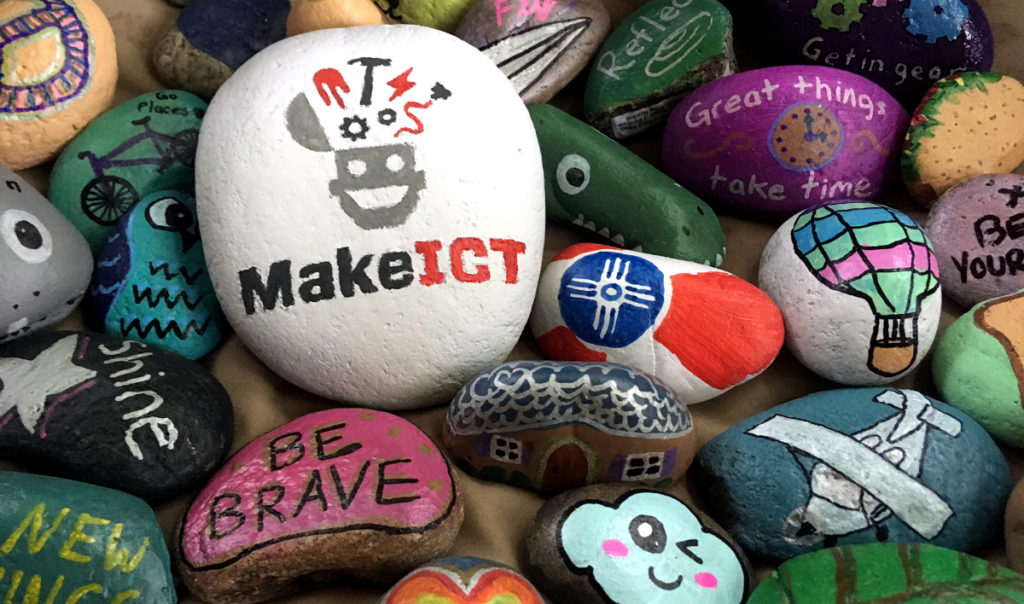 Have you been painting rocks? Wichita has embraced this trend in full force and MakeICT has held several events this summer to encourage this accessible, popular, artistic past time. The idea is simple: paint a rock with colorful pictures or words of encouragement, then hide it out in the world so it can bring joy to someone random who happens to find it.
In June we invited members of the ICT Area Rocks group to our space for a public art night, and they came out in force. We had rock painters in every room of the space! It was a little hectic, but we were happy to show so many people through our open doors.
After the success of this event we decided to scale back for future workshops with a return to our normal registration required/class size limited format.
Rock painting has literally been around for centuries, with rocks and caves service as canvas for early humans 40,000 years ago. For some reason in 2017, a few popular movements started catching on. One of these is the kindness rocks project, a blog that started in 2015. Google trends shows the keywords hitting big this summer: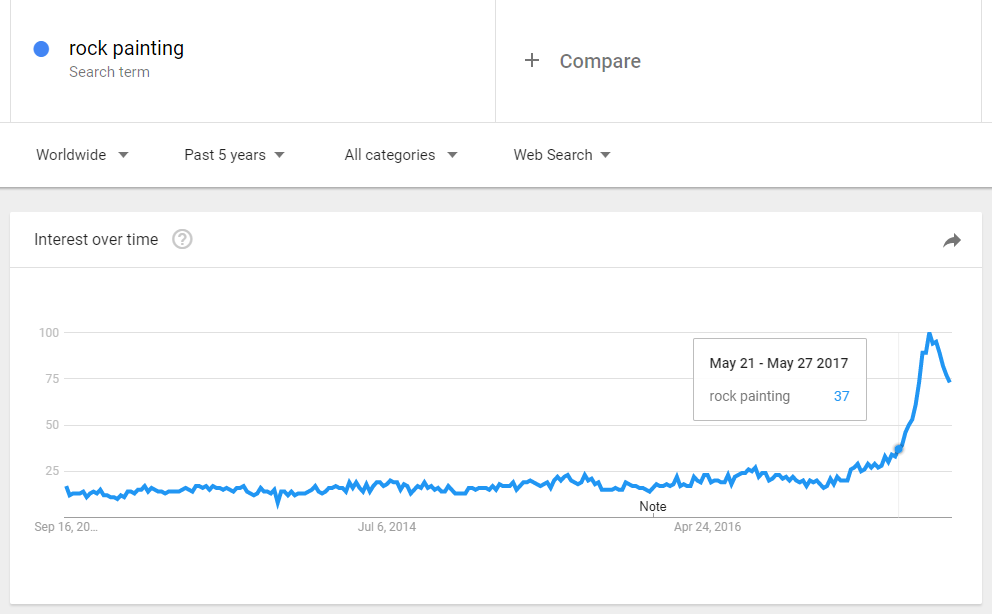 If you want to paint rocks, here are a few tips to keep in mind:
1) Our favorite places to get a lot of rocks are landscaping companies. The Sod Shop at 3601 N Hillside has been very nice to rock painters, donating rocks for our events and kindly letting all kinds of shoppers fill buckets of rocks for less than $10. Bring your own 5 gallon bucket. South side Wichitans report that Andrla's at 1501 W 55th St S is another great source. And of course, if you're just a casual painter getting started you can find rocks on your own property or a friend's to try out. Just don't steal rocks from landscaping of local businesses without asking permission.
2) Our favorite places to get paint are hardware or big box stores. Craft stores have a great selection too but are more expensive, even with those tempting 40% off coupons. Acrylic spray paint is an easy way to start a basecoat but it takes a while to dry. You can also use craft paints for your background. Some people smooth out cavities in the surface with wood filler or clear spray before painting.
3) Don't worry if you're not an artist – anyone can paint rocks! Faces, animals, symbols of our city, foods, cartoons, or inspirational messages make for fantastic rock art. Sharpies or paint pens are nice for finishing touches. If you use pens be sure to coat over your design with modge podge so any sealing sprays you use don't run your colors. A clear acrylic sealer spray to finish it off makes your design permanent.
4) Labeling your rock is a fun way to let others know what's going on. Use just a hashtag like #ICTAreaRocks, or a whole message… "A kindness rock has found you! Keep it for today then hide it again, find us on facebook at ICT Area Rocks." Some families use their own hashtags so they can easily search facebook, twitter or pinterest to see who has found their rocks. There's a printable PDF with lots of label sizes in the rock painting group.
4) Finally, go hide your rock. Our favorite places to hide rocks in Wichita are:
– Keeper of the plains
– Douglas Street
– Riverside park
– Sedgwick County Park
But you can hide your rock anywhere where rocks are found. If you hide your rock in a more out of the way park, it's more likely to be found by a random person than someone out on a rock hunting mission – so it's totally up to you. Just don't hide rocks in grass that gets mowed. Mowers and rocks do not get along and we'd hate for either to get damaged.
You might see your rock re-posted on social media, or you might not. To be a rock painter is to learn the art of letting go. It's totally altruistic – something you're doing, knowing that you might not get anything back in return. Along the way you might get better at drawing your favorite objects, and you might come up with some quotes that inspire you. Maybe your rock gets to live in someone's house and bring them inspiration, maybe it travels around the world, since it has no expiration date there's no way to know what its next journey will be.
We hope this trend continues, since we support anything that gets new people into creating art. Check on our calendar or events page for more painting opportunities at MakeICT.