Posted:
October 3, 2015
6:37 pm
---
News
---
New 3D Printer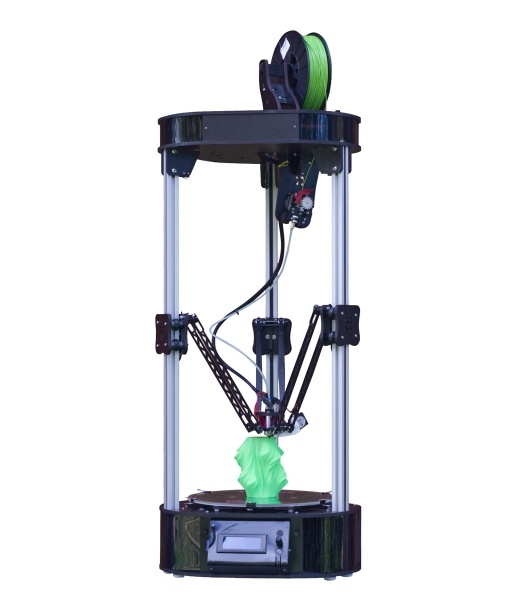 Say hello to our newest addition to the FabLab – a Rostock Max v2 delta printer from SeeMeCNC! This is a great compliment to our 3D printing offerings. The X/Y bed has a 280mm diameter and a maximum build height of 375mm (that's 11″x14.75″)!
Tool/equipment/shop certification
I couldn't be more pleased to announce that our woodshop and laser cutter are both fully operational now. I've been hearing people ask for these two specific solutions since we started, and we're now training and approving members to make use of this equipment.
Thanks, of course, to the Wichita Community Foundation for their support, but also to our awesome volunteers who have been doing the training, Mike Hutton, Mike Doolittle, and Bryan Barr. Thanks also to all of the volunteers who have put in countless hours to help make all of this possible!
Featured Instructables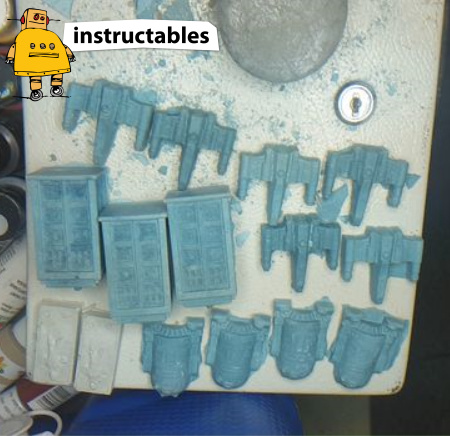 Following up on our Instructables/ShapeCrete build-weekend, I'm very proud to say that our very own James Seymour (yes, the Electronics Benevolent Dictator) had his ShapeCrete Instructables post featured on the Instructables front page! Great work, James!
In case you didn't know, we're kind of a big deal on Instructables. Check out all of these posts by MakeICT people which have been featured on the Instructables home page! Combined, these have been viewed over 1.2 million times and favorited by over 2,500 Instructables users!
And here are some other MakeICT Instructables. These haven't been featured like the others, but they're still awesome!
Halloween Challenge
It's that time again for the annual MakeICT Halloween Challenge!
To participate, all you need to do is make something Halloween-themed (you were already planning that, right?), document some basic info about how you made it, and then post or email a picture and description of your project to us. That's it! Submissions will be accepted until midnight on November 2nd. After that, the community will be asked to vote for their favorite project online via Facebook "likes". After 2 weeks, during the Maker Monday on November 16 at 7 pm, the MakeICT judges will determine the final winners and award prizes!
Categories:
Costume
Food (bonus points for bringing samples to a Maker Monday)
Decoration (includes Jack 'O Lanterns)
Prop/other
Prizes:
Top overall – 2 tickets to see the Mythbusters in Wichita on Dec 1!
Top in category – $25 gift card
Honorary mention – hug from Dom
Entries can be emailed or posted to the Facebook event page. Be sure to check out last year's submissions if you need some inspiration!
#FocusForwardICT
The buzz around Wichita lately has been around a report assembled by James Chung of Reach Advisors. The Wichita Eagle has a good summary if you missed his presentation.
A lot of people are disheartened at the data and what the implications are. Personally, I think it's really encouraging. Many of you probably already know that I love our city, and I find myself constantly surrounded by people who want nothing more than to see Wichita thrive. By embedding myself into the culture of our city, there's never a moment for me to be bored.
When I consider the data that James presented, I actually feel excited by it. I already love Wichita, and now that we have an idea of exactly how much room for improvement there is, I can only imagine how much potential we have to make others love this city as much as my friends and I do.
Not only that, but with all of this room for growth, anybody who wants to make a difference has quite an opportunity to do so! MakeICT's mission is a commitment to this community, so if you're looking for a way to be involved, please reach out to us!
---
Donation request
---
We need a good upright vacuum! Our makerspace has grown significantly in recent months by every measure: physical size, membership, activity, etc. We have more floor to keep clean, and it takes no time to become dirty again. We rely on our members to keep the facility clean, but even the simplest tasks become a challenge when you don't have the right tools.
If you can help us out with this, please email me at dom@makeict.org. Thank you!
---
What we've been up to
---
2nd Saturday Workshop: Space painting workshop
This was one of our best-rated workshops to date! Tommy brought TONS of examples with him and share all of his super-secret techniques for creating works that are out of this world! C'mon, you knew that was coming!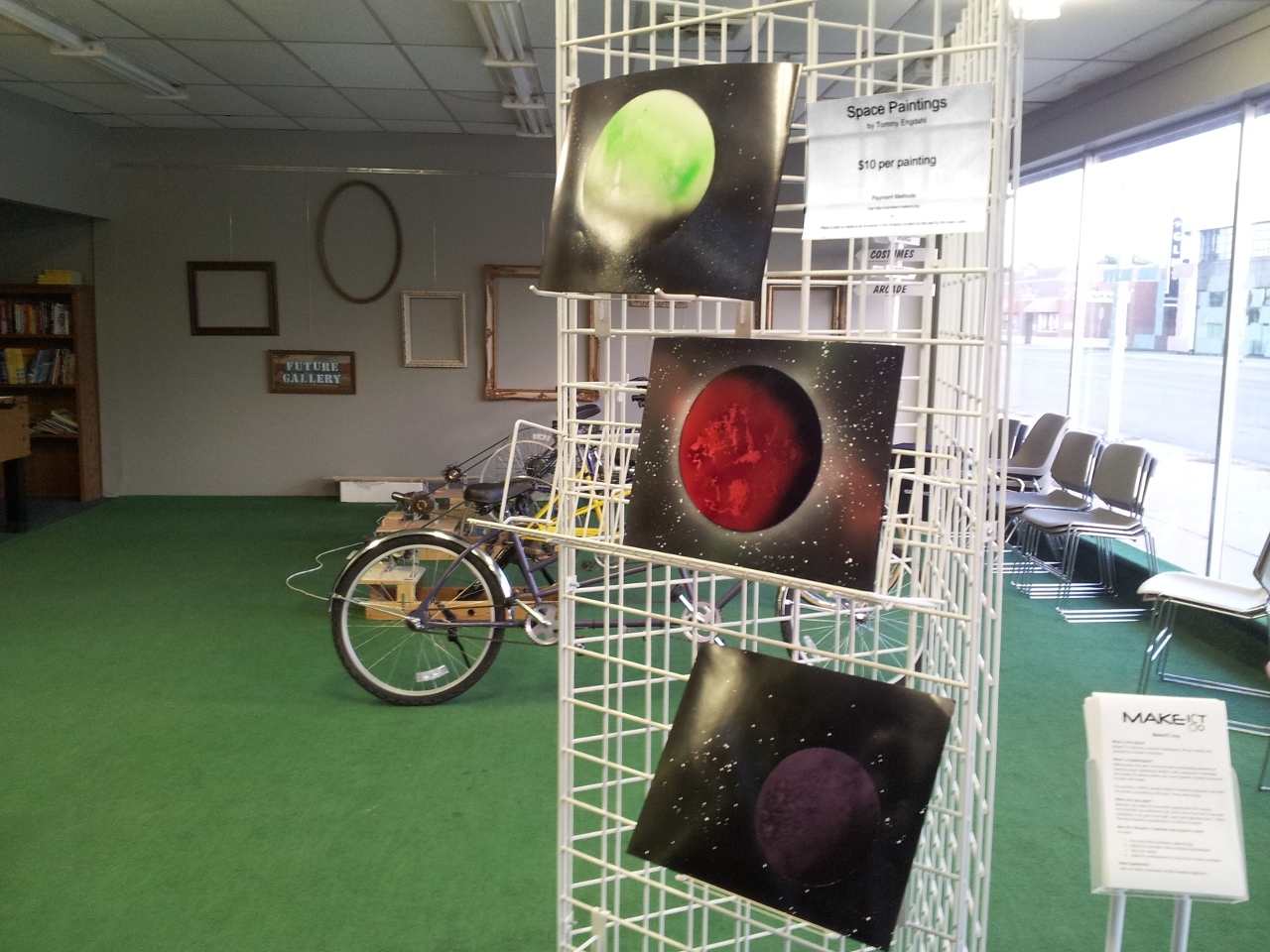 Tommy is currently selling some of his works in the front area of the makerspace. $5 from each sale go back to MakeICT to help fund our mission. Come pick out your favorite before someone else snags it!
Inkscape wizardry for makers workshop
This was a 90-minute crash course in vector image creation using the Free and open source editor, Inkscape. We covered a variety of tools and techniques, with some specific tips on creating media for making (laser cutting, milling, 3d printing, etc).
Laser cutter certification workshops
The laser cutter has been quite popular since finding its home in the makerspace. Mike Doolittle has been putting in some serious volunteer hours to learn what he can and share with others. More laser cutter certification workshops are being planned now!
Woodshop saftey and certification workshops
The woodshop is one of our most impressive offerings. We have an incredible selection of woodworking tools, providing members with the potential for some serious making… and serious injury. Thankfully, Mike Hutton (our woodshop Benevolent Dictator), has created a pretty comprehensive safety and certification workshop. He's held a few of these already, and more are being planned now!
Make-o-rama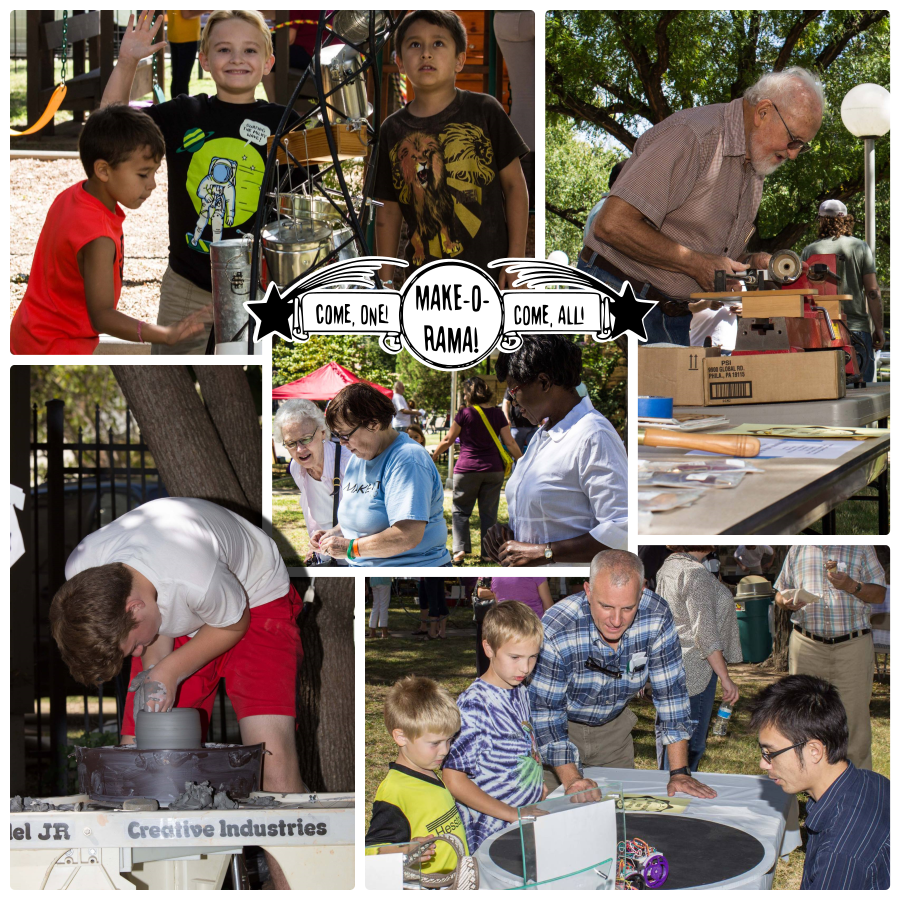 The Maker Culture is alive and thriving in Wichita! In September, the community at and around Lorraine Avenue Mennonite Church put together a celebration of the maker culture. There was art, food, live music, dancing, wood turning, gardening, electronics, ceramics, and so much more! I love being surrounded by people who love sharing their passions, so obviously I loved this event!
devICT Talk: Lightning talks!
devICT hosted their first Lightning Talks event. Instead of one talk covering a topic more in depth over 45 minutes there were several 5 minute talks giving quick exposure to a variety of topics. Initially six talks were scheduled, and a few more people jumped to the occasion on the spot. Talks and discussion included wearables, design for developers, open source console emulators, and more.
The video is availabe on Youtube.
---
What's coming up
---
October 5: Maker Monday (+new member orientation)
Every other Monday is a Maker Monday! We open our doors to the public at 7pm and invite people to bring a project, bring a friend, or just bring themselves. There's always something interesting going on! The first Maker Monday of each month is also new member orientation, which starts at 7:30.
Keep the momentum going! Let's hang out and work on our Open Wichita projects together. Collaboration encouraged, show up whenever, stay until whenever. Just come get involved in some civic hacking!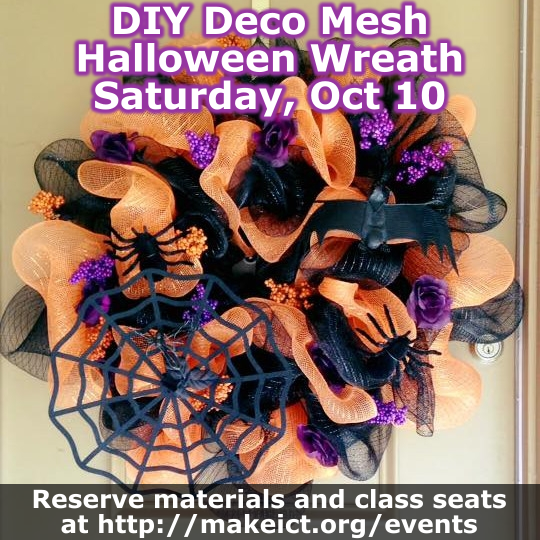 Come create your own Halloween-themed deco-mesh wreath! Jessica will walk you through the entire process – check out one of her creations!
You will be provided with all of the materials needed to make your own wreath using deco mesh and various other materials to take home and hang on your door. Each registrant will receive supplies for one wreath, and you may bring a friend to share the materials if you wish.
These things sell for over $80! Why pay that much when you can make one yourself for a fraction of the cost?! Here are a few from Amazon for reference: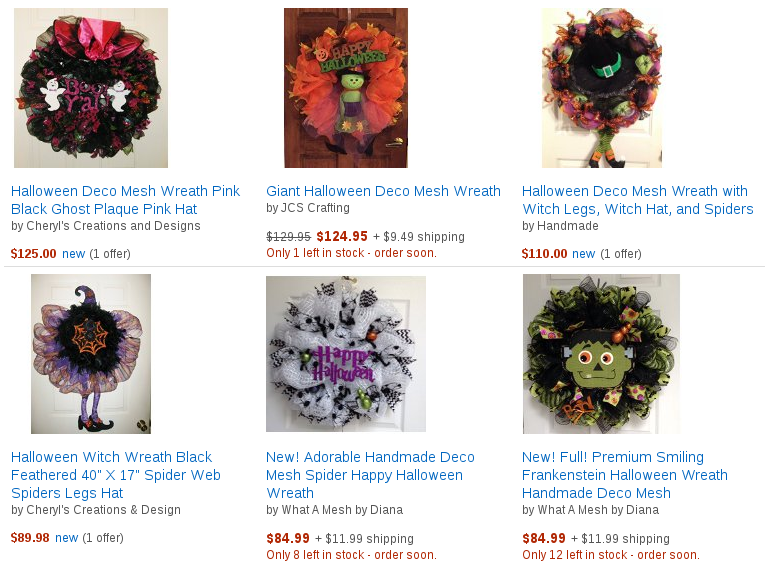 Some of our makers have been hard at work re-creating bicycle-powered electric generators for the 2015 Off the Grid Concert and EcoFest at the Bartlett Arboretum on October 18th. It's been fun to see these come together at the makerspace. Check them out!
Gates open at noon to kick off an afternoon of speakers, musicians, and artists performing and exhibiting in consort with the Arb's stewardship mission. Alternative energies will be on display, including a bicycle-powered audio system and a wind-energized kinetic art installation by Mike and Meghan Miller. A kid's tent will offer eco-crafts.

Every other Monday is a Maker Monday! We open our doors to the public at 7pm and invite people to bring a project, bring a friend, or just bring themselves. There's always something interesting going on!
Join us again this month for more Lightning Talks! This event is composed of several talks from several people, each talk averaging around 5 minutes long. We will be covering a variety of topics, so this is a great way to get some exposure to all kinds of development related goodness all in one event! If you're interested in giving a lightning talk for this event, or even at another future event, please get in touch!
November 2: Maker Monday (+new member orientation)
Every other Monday is a Maker Monday! We open our doors to the public at 7pm and invite people to bring a project, bring a friend, or just bring themselves. There's always something interesting going on! The first Maker Monday of each month is also new member orientation, which starts at 7:30.
Haven't had enough Maker Faire yet? Good news, everybody! Barnes & Noble is hosting Mini Maker Faires in stores across the nation – including right here in Wichita! Hooray for makers!