Posted:
August 6, 2018
8:06 pm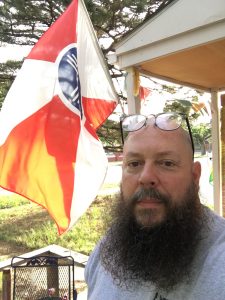 Scott Sullivan makes the most of his monthly membership dues. He joined MakeICT to have access to a woodshop, metal
shop and pottery studio, but when I first met Scott, he was hanging out with the Textile Tribe repurposing old shirts into aprons. He definitely utilizes the most of what Makerspace has to offer.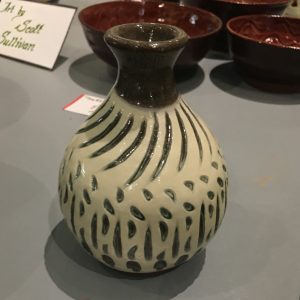 Scott was born in Seoul, Korea. He describes growing up as "not quite an 'army brat' but close", moving to a new location every 3 to 4 years. He caught the ceramics bug while an exchange student at Kansai University of Foreign Studies in Osaka, Japan. He has a lot of ideas he would like to try when it comes to pottery, currently working on making a bird bath for his front yard. He states that not having thrown anything that large, he finds this project quite a challenge. Another project he is working on is designing a metal candle holder to be cut out with Plasma CNC.
Scott considers himself a "general all around crafter". He knits, crochets, weaves, embroiders, makes brooms, does leather work, gardens, and sews. He is the treasurer of the CSMA (Central States Metal Artisans) blacksmith organization. And if you think there's not enough hours in a day, he also studies foreign languages, already having studied French, German, Chinese, Arabic, Irish, Russian and Icelandic.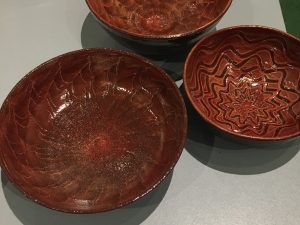 When asked to ponder deeper on the reason they make manhole covers round, he responds "Manhole covers are round because manholes are round. Manholes are round because manhole workers are round."
Thank you Jenni Alonso for contributing this post.