Posted:
October 3, 2018
3:36 pm
When Brian Norton came to his first Maker Monday to join, it was because he found out the space had a laser that he could use with his leather working. He said he always enjoyed making, building, and tinkering and he was excited to find a place with other creative people that share those same interests.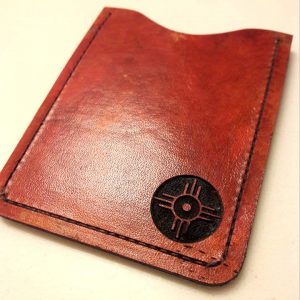 Brian is originally from Kansas City, MO but having moved to Wichita when he was still in third grade and spending most of his life here, he feels Wichita is home. He has studied Collision Repair and Automotive Refinishing and worked in a body shop for a while, worked retail when the economy went south, returned to school to study business and now working as a General Manager for Damm Music Center where he utilizes his love for music. He finds being able to work around musical instruments every day very rewarding.
He has done a lot of leather tooling for wallets, guitar straps, and holsters. He has now started doing more laser engraving. He makes leather Wichita Flag keychains, wallets, card wallets, and field note covers. Currently he's working to get about 100 keychains made up along with some other goods to get them in a few consignment shops in town and hav a table at a craft show. Even though the craft show is not scheduled until fall, he plans to get stuff made as soon as possible before his busy season kicks in and leaves little time for him to get stuff done.
If anyone is thinking of joining MakeICT, Brian advices that they attend a Maker Monday and go through orientation. This is the best way he found to learn about the space and meet people. His other piece of advice for new members is to take as many classes as they can. He states that he is not the kind of person that will just go up and strike up a conversation with someone unless he's at work, and because of that getting his key form filled out took a while. He started taking classes and meeting people, once he did that he got his form completed quicker.
If you want to become more active in the organization, he suggests finding the area of Makerspace you use the most and speaking to the lead of that department. He states that most leads have a lot on their plates and many would welcome having a volunteer to help out. Or, he says, think of a project you made that people thought was cool and teach a class on how to make it. Most importantly, he says, come by the space more often, meet new people, and just help out where you can.
Brian used to play guitar, bass or do vocals in a few different metal bands and even got to go on a short tour with one of those bands. He also plays ukulele as well. When he's not playing music, he is either working on his "many unfinished projects" or out at the shooting range. He also shoots in a competitive trap league.
Something that he has not done before but would like to do this year is pottery. He says that he sees all the "cool stuff" coming out of ceramics and he's decided that he would like to do that too.