MakeICT November News
Hello Makers! Here's what's been going on around the space in November:
We finished our EPIC MAGIC FIRETRUCK WHEELCHAIR for a boy who was very thrilled to have the best halloween costume ever! Thank you to everyone who worked on the wheelchair!
It's time to appoint 2019 area leads. To help out in your favorite area, sign up here.
Can you make us ten holiday ornaments by Thanksgiving? Win a $50 MakeICT gift card in our Holiday Ornament Challenge.
Thank you to the amazing ceramics artists who helped stamp out hunger at Wichita's annual empty bowls event!
Tell us what area is most important to you by reporting your volunteer hours
Featured makers of the month are Brian Norton in October and Krissie Lagana in February.
Makerspace tourism is all the rage. If you're traveling to a distant city, check out their makerspace and tell them hello from MakeICT! Members reported in from Reno, Nevada and Anchorage, Alaska this month.
Want to share your projects? Sign in to our forum or post to our facebook page. Happy making, Wichita!
Krissie Lagana is a wife, mother, daughter, granddaughter, and soon to be grandmother. Her favorite thing to do is spending time with family and listening to her son play guitar or drums, and is also nuts about baking, and canning. She is originally from Wichita and very proud of being a Wichitan, (she also adds that it isn't only because she work for the city). She is passionate about her kids, and is sure to be just as crazy for her soon to be grandbaby.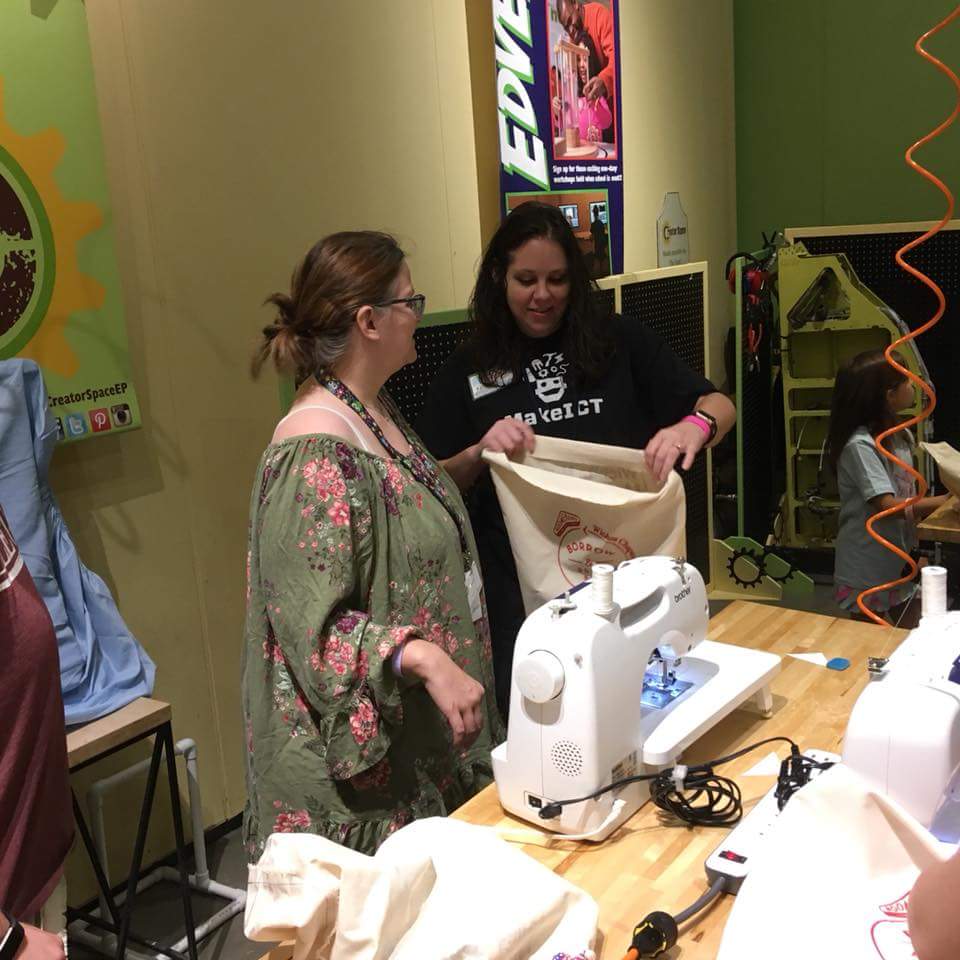 She joined MakeICT after a life altering decision and event. She made a new commitment in life, and states that in an effort to fulfill this commitment she began looking for ways to develop and reinforce new and healthier habits. She concludes that meeting new people and making fun things was a much better "habit" to have. She is proud of the changes she has made thus far and loves the fact that Makerspace has been a big part of her "new ME" journey.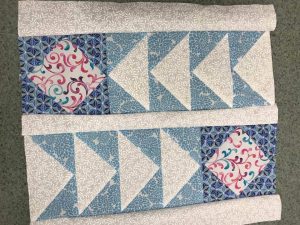 Krissie has worked quite a bit in the woodshop and has completed a tongue drum and a pencil box. She also enjoys quilting, and currently working on more quilts since she now has a long list of people to give quilts to. She also enjoys volunteering time at Makerspace and was part of the past Maker Faire, where she assisted in making canvas bags with the Textile Tribe.
Her advice for those looking to join MakeICT is to "Jump IN with both feet! Come and explore! Have fun and let your curiosity and natural creativity run amok."
When asked about hidden talents, she confesses that they're so hidden she hasn't discovered them yet. So far, she has found that she is pretty good at baking delicious cakes, and when she has the time, patience, and inclination, she can also be a talented decorator.
Another organization she loves is the Harlem Globetrotters, and she had the pleasure of meeting them several years ago. When you see Krissie next time at Makerspace, ask her who "Mighty" is, and she will have fun facts to share with you.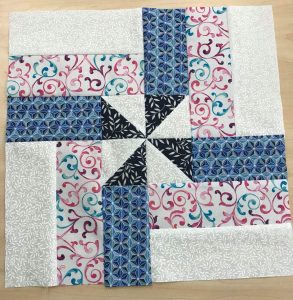 When Brian Norton came to his first Maker Monday to join, it was because he found out the space had a laser that he could use with his leather working. He said he always enjoyed making, building, and tinkering and he was excited to find a place with other creative people that share those same interests.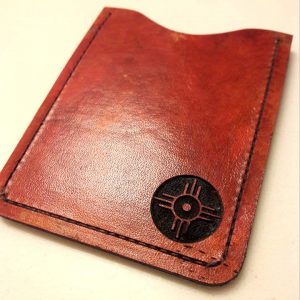 Brian is originally from Kansas City, MO but having moved to Wichita when he was still in third grade and spending most of his life here, he feels Wichita is home. He has studied Collision Repair and Automotive Refinishing and worked in a body shop for a while, worked retail when the economy went south, returned to school to study business and now working as a General Manager for Damm Music Center where he utilizes his love for music. He finds being able to work around musical instruments every day very rewarding.
He has done a lot of leather tooling for wallets, guitar straps, and holsters. He has now started doing more laser engraving. He makes leather Wichita Flag keychains, wallets, card wallets, and field note covers. Currently he's working to get about 100 keychains made up along with some other goods to get them in a few consignment shops in town and hav a table at a craft show. Even though the craft show is not scheduled until fall, he plans to get stuff made as soon as possible before his busy season kicks in and leaves little time for him to get stuff done.
If anyone is thinking of joining MakeICT, Brian advices that they attend a Maker Monday and go through orientation. This is the best way he found to learn about the space and meet people. His other piece of advice for new members is to take as many classes as they can. He states that he is not the kind of person that will just go up and strike up a conversation with someone unless he's at work, and because of that getting his key form filled out took a while. He started taking classes and meeting people, once he did that he got his form completed quicker.
If you want to become more active in the organization, he suggests finding the area of Makerspace you use the most and speaking to the lead of that department. He states that most leads have a lot on their plates and many would welcome having a volunteer to help out. Or, he says, think of a project you made that people thought was cool and teach a class on how to make it. Most importantly, he says, come by the space more often, meet new people, and just help out where you can.
Brian used to play guitar, bass or do vocals in a few different metal bands and even got to go on a short tour with one of those bands. He also plays ukulele as well. When he's not playing music, he is either working on his "many unfinished projects" or out at the shooting range. He also shoots in a competitive trap league.
Something that he has not done before but would like to do this year is pottery. He says that he sees all the "cool stuff" coming out of ceramics and he's decided that he would like to do that too.
September 7, 2018
11:02 pm
MakeICT September News
September is always a very busy month at MakeICT and this year is no exception. Thanks everyone for jumping in and getting involved! Here are the highlights:
Join us every Sunday evening to build an epic magic firetruck wheelchair for a very cool kid in need! We need to raise about $1500 for supplies – pitch in at makeict.org/donate
Finalize your donation for our 2018 Art Auction.on September 28th. Items will be on display starting the week before and bidding ends on Final Friday. Spread the word for our biggest fundraising event of the year.
We have big items to talk about at the September 16th Quarterly Meeting. First, we have an open board member spot. We are accepting nominations and a vote will be sent out if more than one candidate accepts. Second, we will hear from the new building committee about possible new homes for MakeICT. We do not have a proposal ready for you to vote on, but activity around our future is happening fast and we need you involved. Moving is a big deal that cannot happen without a vote of the membership behind it.
Speaking of being involved – committee signup is happening now. Whether you want to lead or just participate in a committee, please sign up! We will assign leads at the September 20th board meeting and leads will recruit their members from the signup list.
Open Streets is Sunday September 23rd and we would love to have you volunteer!
We've started a Chili for Charity team. Staff a booth and hang out with us on September 22nd.
There is a monthly creator challenge to see who can make something amazing with just a pair of 2x4s by the end of September.
This month's featured maker is ceramics contributor Michelle LeFavor.
As always, tell us about your projects in the forum and have a wonderful month of making!
September 3, 2018
3:50 pm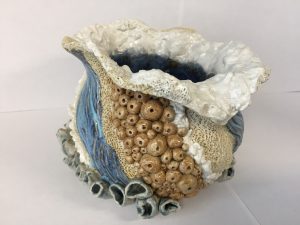 In this inaugural entry in our Ceramics Featured Makers series, I'd like everyone to meet @Michelle LeFavor. If you've been in the studio the past several months you have undoubtedly seen some of Michelle's amazing sculpture pieces. Her recent work is remarkably detailed representing the many hours of time she spends on them. Her pieces range from those that look like they've jumped right off a coral reef and onto the shelves to whimsical carved bowls and sculptures of nature or fantasy figures. Creativity might just be Michelle's middle name.
About Michelle:
Born: Bellingham, WA – right near the Canadian border
Started in Ceramics: Was taking a metaphysics class and the instructor brought in a chunk of clay and said "make a sacred object". Having never done anything with ceramics before, she dove right in and made a small statue of the Goddess of Willendorf. She just seemed to have a knack for it! Took some classes at Butler and WSU and really liked it. And she hasn't stopped yet.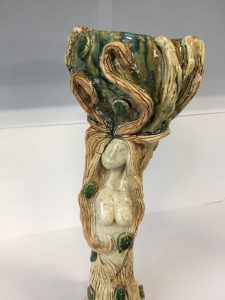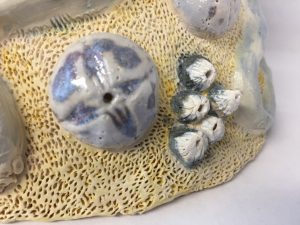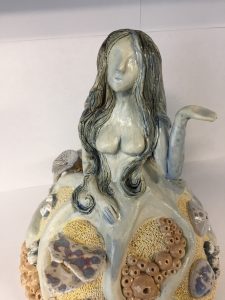 Why Ceramics: It's therapeutic, whether it turns out or not! Michelle says: "This is my church. It's the closest I can get to God, spirituality, or zen. When I'm creating, it's when I get into my zone. I've always been creative and always wanted to be an artist when I grew up. I have this uncontrollable compulsion to make things."
Biggest Ceramics Challenge: Glazing!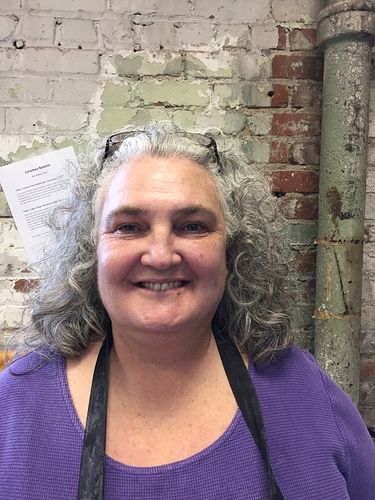 Hobbies: Ceramics, travel, drawing, black ink portraits.
If She Had One Wish: "I'd want to live in the mountains in a little cabin, with my dogs, and a little ceramics studio."
Please say howdy to Michelle the next time you see her!
Thank you Patrick Hutchison for contributing this post
We've had a few members approach leaders at the makerspace lately to say, "I just broke a machine! What should I do!?" This topic is covered in safety classes but we wanted to reiterate some best practices.
Here are some things you should NOT do:
Have no idea what to do
Leave without doing anything
Blank stare for extended period of time
Here are some things you SHOULD do:
Turn it off.
Unplug it.
Gather information. Examine the situation as best you can. What's damaged? Will new parts be required?
Notify the area lead via email. Use this page for contact information or just remember the popular emails –
metalshop@makeict.org for all woodshop operations
woodshop@makeict.org for all woodshop operations
fablab@makeict.org for 3D printers, laser cutter, other fablab
info@makeict.org if in doubt this is the fastest way to inform lots of us and we will forward to the right place
Make a big obvious sign with your name, your contact information, the date, what's broken. Tape it to the machine in a place that's obvious to see, like right over the power switch.
Use the lockout/tagout equipment if the machine is unsafe to use.
Be sure to review area policies around maintenance practices before attempting to repair any damage yourself.
If you made a mistake that caused damage we'd appreciate it if you'd pitch in on the repair costs, but this isn't required, we understand that not everyone is in a financial position to pay for repairs. MakeICT has an equipment repair budget. We don't want anyone to be afraid to report damage. Tell us what happened!
And finally, always remember that safety classes are free for members. If it's been a year or two since you got an authorization, it might be time for a refresher. You can ask more questions based on your experiences and gain confidence that you're using the equipment safely.
Coming up in August: Burgers & Brooms
Sunday August 12th, 3:00-6:00pm
Join us at MakeICT to hang out with fellow makers, clean up our space, and have a cook out…burgers and fixins' will be provided! Please bring a side dish, chips, or dessert to share. This event will give us time to prep our space for Open Streets ICT on September 23rd and the Art Auction on September 28th.  More info…
Annual Art Auction
Just a reminder our annual art auction is September 28. It's a highlight of the year and I hope everyone is busy working on amazing pieces to show off what we've done and raise money for MakeICT equipment. Talk about our auction or invite your friends on facebook in preparation for the event.
August Featured Maker: Scott Sullivan
Scott considers himself a "general all around crafter". He knits, crochets, weaves, embroiders, makes brooms, does leather work, gardens, and sews. He is the treasurer of the CSMA (Central States Metal Artisans) blacksmith organization.  He joined MakeICT to have access to a woodshop, metal shop and pottery studio, but when contributing author Jenni Alonso first met Scott, he was hanging out with the Textile Tribe repurposing old shirts into aprons. Read more about Scott on our blog…
Forum highlights
Some of our top monthly posts: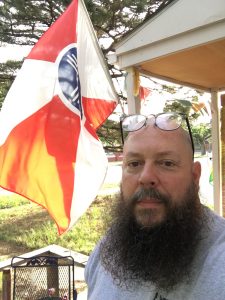 Scott Sullivan makes the most of his monthly membership dues. He joined MakeICT to have access to a woodshop, metal
shop and pottery studio, but when I first met Scott, he was hanging out with the Textile Tribe repurposing old shirts into aprons. He definitely utilizes the most of what Makerspace has to offer.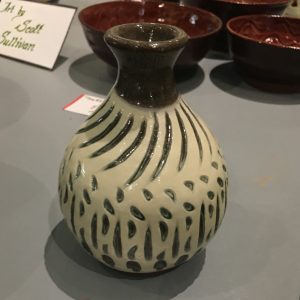 Scott was born in Seoul, Korea. He describes growing up as "not quite an 'army brat' but close", moving to a new location every 3 to 4 years. He caught the ceramics bug while an exchange student at Kansai University of Foreign Studies in Osaka, Japan. He has a lot of ideas he would like to try when it comes to pottery, currently working on making a bird bath for his front yard. He states that not having thrown anything that large, he finds this project quite a challenge. Another project he is working on is designing a metal candle holder to be cut out with Plasma CNC.
Scott considers himself a "general all around crafter". He knits, crochets, weaves, embroiders, makes brooms, does leather work, gardens, and sews. He is the treasurer of the CSMA (Central States Metal Artisans) blacksmith organization. And if you think there's not enough hours in a day, he also studies foreign languages, already having studied French, German, Chinese, Arabic, Irish, Russian and Icelandic.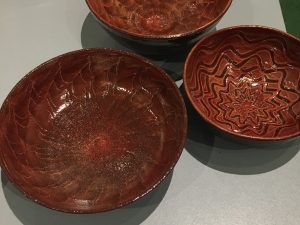 When asked to ponder deeper on the reason they make manhole covers round, he responds "Manhole covers are round because manholes are round. Manholes are round because manhole workers are round."
Thank you Jenni Alonso for contributing this post.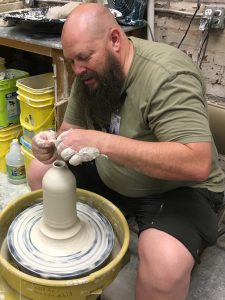 This post was contributed by LaDeana Dockery
We met a lot of great people and had a lot of fun going to the 2018 Nation of Makers Conference (NOMCON).
Most of us (David, Malissa, Logan and myself) set out Friday morning… well Thursday night really.  It is 2:30am when the train leaves Newton, Kansas heading West.  If you have never taken the train, you should at least take one trip.  We watched the scenery from Western Kansas, Colorado and New Mexico fly by from the Observation car as we anticipated the conference.  When we made our final stop late in the afternoon at Lamy, NM, we realize we had landed in a place way smaller than Newton.  The "bus trip" from Lamy to Santa Fe was guy driving a hotel van with just the four of us and the other two people who got off the train in Lamy.   No one had cell service until we were within a few minutes of Santa Fe.
Sam picked us up in his rental car at the dropoff location in Santa Fe and we made our way up to our AirBnB rental.  This is the first time I have done AirBnB and it was quite interesting.  We stayed at an "Artists' Hidaway".  It was open and airy and definitely full on New Age.  After taking in a local meal, we all retired back to the BnB except for David who wasn't feeling well and got a hotel room.
The next morning we made our way to the conference.  After a morning conference opener that was mostly thanking everyone, we got down to business.  We tried to choose separate sessions to try and and gain the most from the conference.  My first session was titled the Five Stages of Grant Writing.  As I went into the room, I realized that this conference was not going to be like the ones I had attended for work.  There were grouped tables and rather than listening to a single speaker, we talked a little bit about who had Grant Writing experience and who didn't and what people thought was important.  Someone took notes that we all could share (which was good, as the conference center had spotty WiFi which we quickly overwhelmed.)
The next session I had was the one I was to lead: "Moving a Makerspace".  My session went pretty much like the first as we networked and talked about who was moving their makerspace and who already had.  One of the fellows took some notes.   I promised to take the notes and what we learned when we moved to make a book for all the makers about "Moving a Makerspace".
There were a couple more sessions that afternoon that went much the same way.  I realized the conference was more about networking than anything else and set about making conversations with many of the different makerspaces.  We have some differences, but many of the community makerspaces have problems and joys that parallel our own.
David mentioned he was going back home early as he really did not feel well.  That evening we went to one of the social events and met more folks from various makerspaces.
The next day heralded a much better crop of general speakers,  The theme of the conference was Intentional Inclusion and a very dynamic speaker told of her struggle to find shoes that worked well with her disability.  A speaker came to speak to us in spite of having major dental surgery issues.  We had a speaker talk to us about making special costumes for kids in wheel chairs.  ( You are not supposed to cry at a conference… but these were powerfully moving speeches.)  We should totally try to do the costumes for wheelchairs…
Finally Adam Savage got up to speak and I thought it will be hard to follow the wheelchair folks.  He held his own, but barely.  And then the rest of the day to network with other spaces.
We had more fun before we left.  Meow Wolf (the famous art exhibit/mystery story/funhouse) and Itchy-o (a percussion group) and a train trip back.
This is already too long, so see me or one of the gang for details 🙂
Photos from the trip